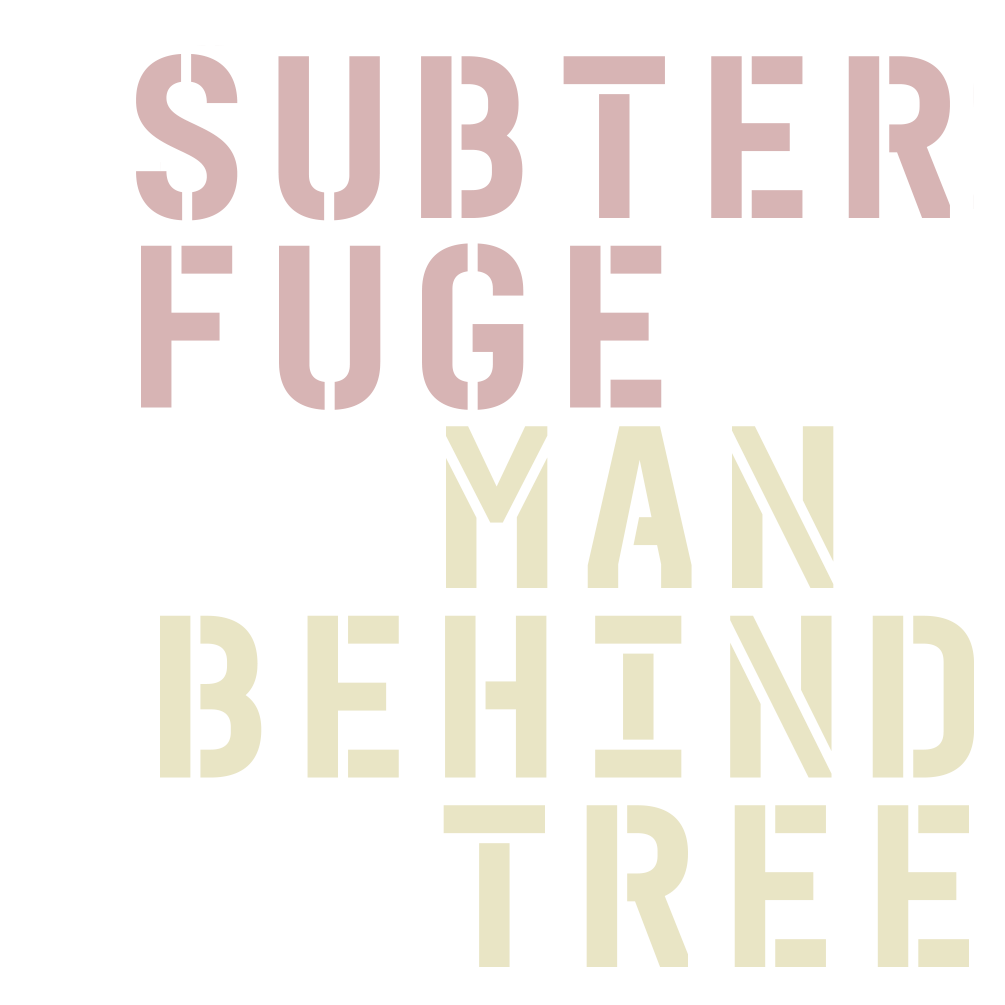 Freunde über Umwege:
Subterfuge & Man Behind Tree auf Tour

Es ist schon verrückt manchmal. Zwei deutsche Indie Pop Bands, Subterfuge (Düsseldorf) und Man Behind Tree (Berlin), die sich über den Umweg Pretoria (Südafrika) kennenlernen, gehen gemeinsam auf Tour durch den Norden des Landes.
Hans Forster, einer von vier Sängern bei Man Behind Tree, sagt: "Die Musik, die wir machen, verbindet man vielleicht erstmal mit der US-Westcoast oder Schottland." Lars Schmidt, einer der zwei Songschreiber bei Subterfuge, ergänzt: Wenn man Blogs wie das Janglepop Hub aus Südafrika verfolgt, ist man schon erstaunt, was dann doch in Deutschland alles passiert. Und so wuchs natürlich das Interesse aneinander, erst über Social Media, später bei Konzerten, als das nach den Lockdowns wieder ging."
Da lag es nahe, auch mal gemeinsam im Namen der guten Musik unterwegs zu sein. Zusammen mit DJ The Whollebe (60s 70s Power Pop Psychedelic Pop Beat Indie Pop Classics) werden die beiden Bands im November vier bunte Indie Pop Abende auf die Bühne bringen:
Do, 3.11.22 Berlin, Maschinenhaus
Fr. 4.11. 22 Kassel, Kulturfabrik Salzmann
Sa, 5.11.22 Hildesheim KUFA
So. 6.11.22 Hamburg, Nachtasyl
Subterfuge sind seit 1991 eine der wenigen hiesigen aktiven Indiepopbands der ersten Generation. Zwischen 1993 und 2005 veröffentlichten die Düsseldorfer vier Studioalben. I Do Birds schaffte es sogar bis nach Japan und die Single Silly Girl lief ausdauernd auf Rotation bei VIVA2. Bis 2007 spielten Subterfuge ca. 300 Konzerte, eigene Headliner-Touren, Supports und etliche Festivals (Bizarre Festival, Immergut etc).
Zum zehnjährigen Plattenjubiläum in 2003 erschien Fabulous Friends, eine Compilation auf der 28 befreundete Bands (Slut, Miles, Readymade, Virginia Jetzt!, Nova International, Pale, Liquido, Paula uvm.) jeweils einen Song des Band-Debüts Fabulous coverten. In 2005 produzierte Olaf O.P.A.L das letzte Subterfuge Album The Legendary Eifel Tapes, bevor die Band ihre Aktivitäten vorerst einstellte.
Das aktuelle Album Dots ist das erste Subterfuge Album seit 16 Jahren. Es bekam herausragende Kritiken und Airplay in Deutschland, UK und sogar den USA.
Im Juli 2022 wurde Dots für den Preis der Deutschen Schallplattenkritik in den Kategorien Pop und Rock nominiert.
Im August 2022 wurden Subterfuge für den Pop NRW Award in der Kategorie Outstanding Artists nominiert.
Man Behind Tree sind eine Jangle / Power-Pop-Gruppe, die im betonierten Herzen von Deutschland – Berlin – stationiert ist. Die vier Musiker balancieren verrrauchte Gesangsharmonien auf übersteuerten Weiden. 2011 veröffentlichten sie ein erstes DIY Album. Ihre 2015 erschienene zweite Veröffentlichung Snoqualmie (Solaris Empire / Broken Silence) beschrieb der Rolling Stone als "Sunny Westcoast melancholia".
Nach einigen Jahren des Aufnehmens mit Sylvain Livache und Tadklimp (The Notwist) haben Man Behind Tree Ende April ihr drittes Album – 3 – heraussgebracht, als CD auf Subjangle (Pretoria, South Africa) als Musikkassette auf Twaague (Berlin, Deutschland).
Die Band besteht aus Mitgliedern von Seaside Stars, Hanemoon, aeroclub und dem verstorbenen großen Mincer Ray.
"Beautiful and timeless"
Frankfurter Allgemeine Zeitung
"Subterfuge have a flair for big melodies, perfect vocal harmonies, ambitious arrangements and a contagious playfulness."
Stern
"The new album by Germany's most important indie rock band can be distilled into just three words: Eiffel Tower High."
Pretty In Noise
> Full Review
"From twee tunes to jangles to psychedelic to college rock, they can write it all and play it with style and conviction.
Dots.

 will be one of your out of left field treasures of the year."

When You Motor Away
> Full Review
"
Stephanie Said

 and

 

The Snake Wife

 

could have been released on Sarah Records, the beautifully produced Beatles psych-soaked

 

The Good Good

 

and the whimsy

 

Why Do I Always Fail To Win

 

could have come from the likes of Ray Davis or Harry Nilsson and my favourite track are the Ride-like opening shoegaze

 

Licentiousness 

and the epic 7min

 

Margarine

.

"

Louder Than War
> Full Review
"
Dots

. again is a typical Subterfuge album in the sense that listeners should enjoy it in its entirety – absolutely no fillers here!

"

Frankfurter Rundschau
"A superb album, and perfect listening for hazy Summers Afternoons. Highly recommended."
coloursthroughtheair.blogs pot.com
"Superb jangle pop and power pop"
whenyoumotoraway.blogspot.com
"Highly Recommended!"
hearasingle.blogspot.com
"Expect fuzzy guitar-driven powerpop with subtle yet convincing melodies"
addtowantlist.com
"Man Behind Tree continues his trend of great jangle pop."
daggerzine.tumblr.com
"Pieces of Power Pop, Jangle, Dream Pop, and Shoegaze combined with beautiful
harmony vocals. It's all there."
sweetsweetmusicblog.wordpress.com
"This is a band turning their influences into something new"
poprockrecord.com